Last Saturday, I ventured out in the bitter cold to check out a new pop-up market nearby.
Lucky Star Market
was held at Prairie Moon Winery in Ames, IA for the first time on December 7. I knew it would be a great place to get Christmas presents, and I was not disappointed.
I would love to share ALL of the amazing vendors, but a girl's gotta stop somewhere! So today, I'm going to highlight my 5 favorite vendors, and I encourage you to check them out for holiday (or
any
day) shopping.
Ingrained Sleeves:
I didn't purchase anything from this vendor, but his stuff was REALLY cool and UNIQUE! He had wooden laptop and ipad sleeves, as well as these amazing wood grain prints.
Order online
? Yes.
Before Christmas?
Ironleaf Press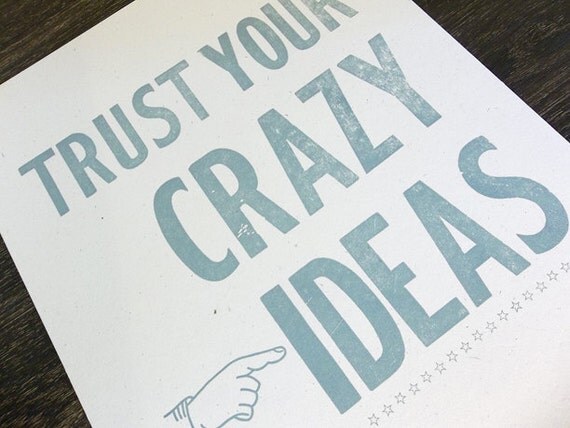 I bought a Christmas gift for my brother from this vendor.
I almost got him this "Trust Your Crazy Ideas" print, but decided his ideas were just a little TOO crazy for that.
Order online?
Yes
Before Christmas?
Yes
Soulshine Living
I practically begged this sign painter to set up a booth at our spring
HomeShed
sale. Wouldn't that be amazing? She paints all her signs by hand – no stencil or predesigning. I'm pretty much in awe.
Order online?
Yes
Before Christmas?
Yes
Red Door Press
Another printing press, but I loved their designs so much! I bought two prints for the boys' playroom and can't wait to get them hung.
Order online?
Yes
Before Christmas?
Yes
JB Knacker
JB Knacker is the original central Iowa "junk" shop. Brenda never disappoints.
Order online? Sadly, no. But you MUST visit if you are ever in the area!
Did you like this post?
Subscribe via email
so you never miss what happens On the Banks of Squaw Creek!